Cleanrooms
Procter Machine Safety offers a full turnkey installation to cover every aspect of the room including electrics and validation/certification as well as a partial installation of whatever level of cleanliness is required.
We can provide rooms with heating, plumbing, air conditioning and humidity control, alongside a range of other options to ensure that we can exactly meet your needs.
Clean Environments
Our Modular Clean Rooms offer a cost-effective solution to creating a clean area within an existing room or space. The area is constructed from free-standing aluminium framework which can be assembled on site in just a few hours. Each framework is designed and manufactured in the UK, allowing us full control from concept through to completion.
Each room is entirely bespoke, allowing us to accommodate sizes from small to large scale constructions. All components are manufactured from long-lasting and easily cleaned materials to ensure years of uninterrupted service. The construction is lightweight and can be dismantled and relocated if required. With a choice of different size standard elements, a variety of working areas can be constructed. Panel walling is constructed from aluminium composite, to suit requirements, and clear non-break polycarbonate creates window panes.
Air cleaning filtration device(s) are fixed to the outside walls or ceiling and as air enters the room it is drawn through a HEPA filter (99.997% efficient at 0.3 microns) creating a positive pressure and clean air environment. A variety of levels of cleanliness can be achieved; ISO Class 6, 7 or 8 are the most common.
The Modular Clean Rooms can be built with or without changing/entrance areas. The entrances can be constructed as sliding doors, hinged doors, strip curtains or a combination of the three. If preferred, transfer hatches can be built in to allow the safe and easy passing of items into the clean air environment.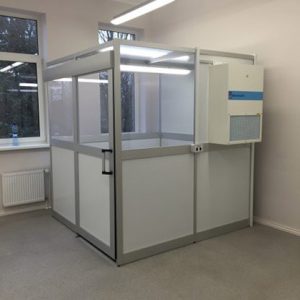 Modular Cleanroom

Modular Cleanroom – Pure Perfection
For further information on our modular cleanroom service or a quote for installation, please contact us.