Expert Machine Risk Assessments
Understanding Machine Risk Assessments
Machine Risk Assessments serve as the cornerstone for achieving optimal machinery safety in your workplace. Our meticulously designed assessments aim to uncover non-compliance issues and evaluate safeguarding options, ultimately creating a secure, compliant, and efficient work environment.
Paving the Way to Machinery Safety
A Machine Risk Assessment is a formal, systematic analysis aimed at identifying hazards and evaluating the associated risks linked to machinery operation. It lays the foundation for defining safety measures, ensuring machinery safety, and guarding against potential workplace hazards.
Why Are Machinery Risk Assessments Essential?
If your operations involve industrial machinery and a workforce managing its intricate components, a thorough machine guarding risk assessment isn't just a proactive step; it's the only starting point. It's crucial for minimizing injuries, optimizing productivity, and safeguarding your assets.
Our comprehensive machine risk assessments align with the requirements of the Machinery Directive 2006/42/EC. This ensures adherence to all pertinent standards and directives, making it indispensable when designing new machines or modifying existing ones.
Effective assessments are carried out meticulously, and results are recorded. This enables the implementation of mitigating actions to reduce risks to As Low As Reasonably Practicable (ALARP).
A Safer, More Productive Workplace
A hazard assessment goes beyond mere identification; it empowers you to integrate risk reduction measures proactively. By doing so, you prevent injuries, production losses, or potential legal repercussions. It ensures the safety of all machinery, aligning with your specific production needs and capabilities, instilling confidence and efficiency in every machine operator.
Moreover, early hazard detection can extend machinery service life, delivering time and cost savings to your business.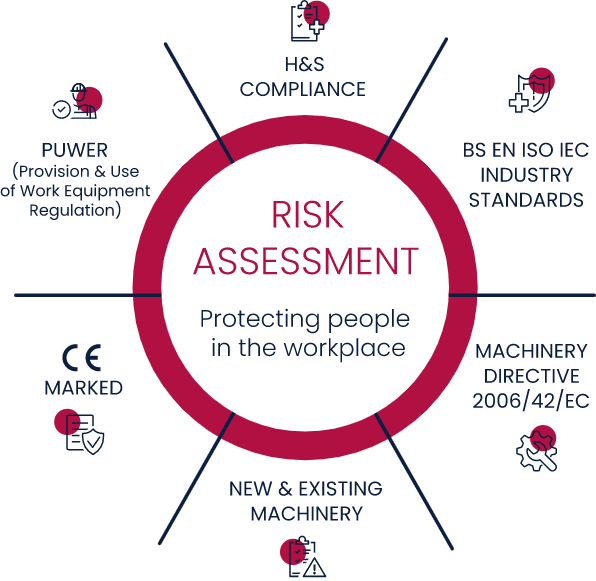 Why choose Procter for your Machine Risk Assessment?
We are the UK's leading machine guarding and safety specialist.
Our comprehensive service offerings make us your single-source supplier for all machine guarding needs.
We excel in addressing non-compliances.
Our team includes TÜV-certified machinery safety consultants.
We possess an in-depth understanding of standards and regulations.
Our unparalleled industry experience sets us apart.
We can conduct assessments for proposed designs, partially built or completed new machines, and existing equipment.
Turnkey Machine Safety Solutions
Safety is our priority, and our consultancy expertise speaks for itself. With a legacy dating back to 1740 and a team of safety specialists boasting over 250 years of combined industry knowledge, our customers trust our capabilities and expertise.
As your full-service safety consultant, we evaluate the safety of your new and existing machinery in alignment with applicable national standards and directives. Detailed recommendations are made to ensure ongoing safety and compliance. We guide you through each step of the assessment, defining and prioritizing safety measures for each machine. Together, we fortify your workplace against risk.
Ready to Ensure
Machinery Safety?
Contact Our Experts Today.