Machine Guarding Surveys by Industry Experts
Comprehensive Safety Assessment and Solutions
Welcome to Procter Machine Safety, where our highly experienced machine safety engineers offer comprehensive machine guarding surveys. Our experts can visit your site to assess your machines, discuss operational and maintenance requirements, and provide advice on the most suitable guarding solutions to ensure compliance with current standards and PUWER (Provision and Use of Work Equipment Regulations 1998).
Whether you're undertaking new projects or upgrading existing equipment, our approach to proposing machine guarding schemes prioritizes safety without compromising productivity. We also consider aesthetics and your budget to deliver practical solutions tailored to your needs.
Understanding Your Specific Needs
With our machine safety design experts amassing over 250 years of combined industry knowledge and experience, you can trust that we understand the legislative and standards requirements relevant to your industry. We take the time to listen to your needs, engage with stakeholders, and propose guarding schemes that align with your requirements.
Our services extend to various industries, including automotive, aerospace, machine tools, pharmaceuticals, paper, packaging, printing, food and drink, general manufacturing and assembly, energy (nuclear, renewables, oil and gas), mining, quarrying, waste processing, and materials handling. This breadth of experience uniquely positions us to provide guidance on both overarching machine safety issues and the specific operational needs of your machinery.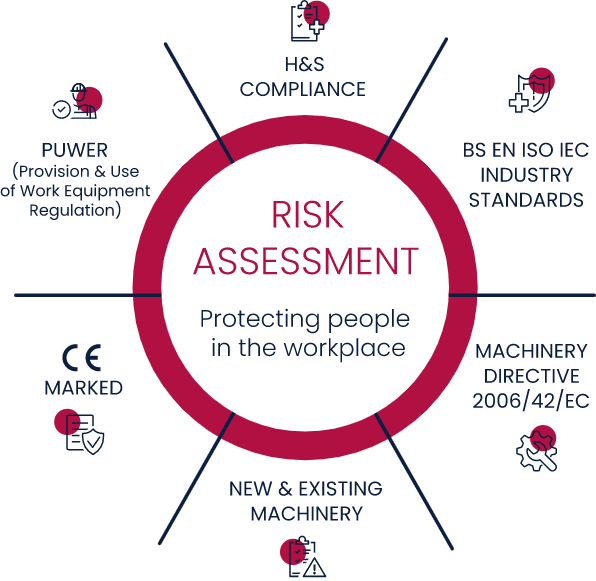 Unsure About Existing Guarding Compliance?
HSE accident investigations often reveal that inadequate guarding contributes to accidents. If you're uncertain about the adequacy of the guards on your existing machines, we offer a Guarding Compliance Survey. This service includes an illustrated report highlighting any non-conformities and providing actionable suggestions to reduce risks, enhance safety, and ensure compliance with standards and regulations. Upon request, we can also carry out the necessary work to make your guards compliant.
Need
Help?
Please contact our friendly team.