SATECH is a modular 'off the shelf' range of guards that Procter stock in the UK.
Procter machine guarding have a large team of skilled fabricators and can create almost anything required for our customers, the range of sizes and components within the Satech range allow the customer to build up a range of differently sized tunnel guards.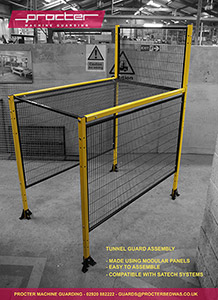 The yellow 40×40 SHS frame can be altered to the customer's requirements and then attached at right angles using our threaded inserts.
The inserts give an added element of flexibility to the product and allow the customer to make changes on site.
For more information on machinery guarding standards please visit our website.
For more information on Satech systems visit our SATECH page.
Or alternatively, call us or email us info@machinesafety.co.uk
>> Next: Cost-effective compliant modular guards
>> All Procter Machine Guarding News