One of our frequently asked questions is "how do I create a door in the guarding cell I am installing?"
The following images demonstrate how easily a door can be created by using our 'Door kit'.
Below is an example of a standard pedestrian door and the elements of the door kit have been highlighted, these include:
Headrail – length dependent on which width of panel you use
Hinge kit – two metal hinges and the associated nuts and bolts in order to suspend the door panel
Procter 'Slam bracket' – This is a folded sheet steel bracket which picks up on existing holes on the door panel and has a powerful magnet on the back to secure in place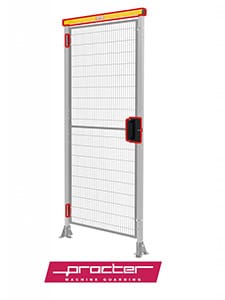 .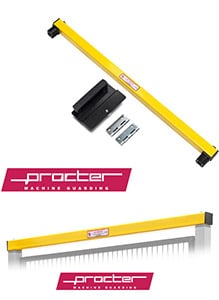 .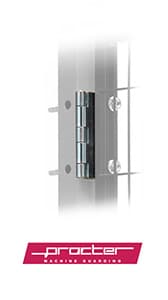 .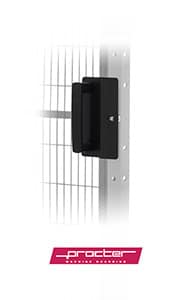 The door kit is great because it can be used with almost all of the Satech panels. The image shows 2040mm high Satech guarding but this can just as easily be used on the lower level perimeter guarding such as 1400mm high and 1100mm. The difference between 2040mm high and lower levels are the removal of the headrail.
The headrail which is supplied when creating a door of just over 2m in height is in the same material and colour as the posts which create the uprights in the door. For example, if you are using the Satech 'Basic' range which features 40x40SHS posts, and you wanted to create a door, the headrail will then also be 40x40SHS and will be provided with two inserts to fit into the posts.
The hinges supplied are as pictured above and use the existing holes on the posts and panels in order to convert a panel into a door, they are robust and fit for purpose.
The standard 'Slam bracket' as pictured above is folded sheet steel and includes a powerful magnet for securing the panel in the closed position and a robust handle which is fit for use.
For more information on doors and the ranges of guarding in general, please visit our website.
If you have any questions and would like to speak to one of our sales team, please call or email info@machinesafety.co.uk
>> Next: Creating tunnel guards
>> All Procter Machine Guarding News