Schools, colleges and other educational establishments in the United Kingdom have a duty under the Health and Safety at Work Act, etc 1974 to ensure, so far as is reasonably practicable, the health and safety of their workers and other persons who may be affected by the activities of the establishment. Another legal requirement, under the Management of Health and Safety at Work Regulations (1999), is for employers to make a suitable and sufficient assessment of all the risks to the health and safety of workers and others arising at or from a work activity.
In addition, the Provision and Use of Work Equipment Regulations (PUWER) place specific requirements on employers to ensure that all work equipment is safe. In particular, employers are obliged to provide safe work equipment that conforms to relevant safety standards, and they must ensure that, where required, appropriate safety devices are available.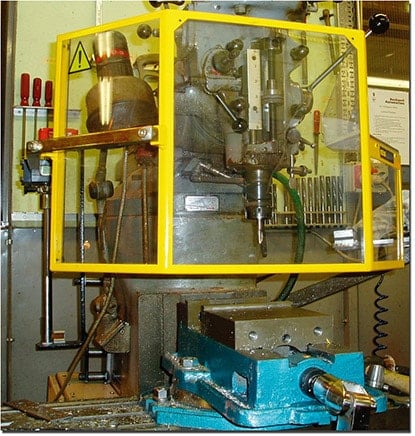 As well as the legislation and regulations mentioned above, further guidance is contained in BS 4163:2014 'Health and safety design and technology in schools and similar establishments – Code of practice'. This CoP provides a means of demonstrating that reasonably practicable steps have been taken to minimise the risks from machinery and other hazards. However, unlike the legislation and regulations, there is no legal requirement to comply with the CoP.
In educational establishments, it is vital to safeguard potentially dangerous machine tools because users are normally far less experienced with such equipment than those in industry, and they may not appreciate fully the hazards. While some schools, colleges and universities are fortunate in having state-of-the-art machine tools, it is more common to find older equipment in use. This machinery often has old-style safety features that do not meet today's standards.
To conform to the requirements of PUWER, it is necessary to undertake formal risk assessments. These will show where machine guarding, safety-related control systems, warning signs and training need to be improved.
Where there is a need to safeguard individual machines such as pillar drills, milling machines, lathes and grinding wheels, standard machine shop guards from the Nelsa range are often the most cost-effective option. These are available on short lead times to suit almost all machine tools found in educational workshops today. They are designed to be simple and quick to install and are CE marked as safety components in accordance with the requirements of the Machinery Directive 2006/42/EC – which is a legal requirement. If standard guards are not available for a particular machine, Procter Machine Guarding can design, manufacture and install customised guards, drawing on its market-leading expertise and experience to create cost-effective guards that comply with the necessary standards yet still provide the best possible visibility and access.
In workshops where, for example, computer-controlled machine tools or robots operate unattended, perimeter guarding may be appropriate. Procter Machine Guarding can supply and install a number of different types of perimeter guarding, including modular systems and bespoke guards, with panels of wire mesh, clear polycarbonate or sheet steel, depending on the application requirements.
To assist educational establishments that need to undertake machine risk assessments and ensure compliance with current standards, Procter Machine Guarding has prepared three free resources. These are a Risk Assessment Calculator and a Safety Distance Calculator, both of which are based on Microsoft Excel spreadsheets, and a Guide to Guarding Standards that is available as a PDF document.
To find out more about Nelsa standard machine shop guards and perimeter guarding, contact Procter Machine Guarding by telephone, or email info@machinesafety.co.uk