Here at Procter, we hold up to a mile of stock of the Satech guarding range, a lot of our customer install this guarding themselves because of how intuitive it is.
For the harder assemblies we regularly provide them ready built, the customer will only need to remove them from our custom pallets and bolt them down and the door will be ready to use!
We Stock Satech in heights 1100mm, 1400mm and 2040mm high.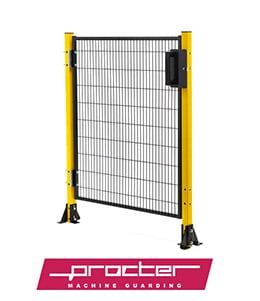 .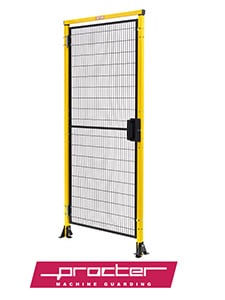 1100 high is generally used for segregation and can be a good alternative to hand railing as its generally more cost effective and it is fully modular.
2040mm high is the height which is most popular with our customer base, because of the height we can add a top rail which adds stability when the door is open.
Our standard doors are available in widths of 700, 800, 1000 and 1200mm, we have the capability to do much larger and other styles of doors. For more information visit our website or call to speak to someone in the guarding dept.
>> Next: How to create doors
>> All Procter Machine Guarding News