Powered conveyors are frequently involved in accidents, so adequate safeguarding is essential for ensuring conveyor safety.Procter Machine Guarding has published a free White Paper, Conveyor Guarding – Safeguarding the hazards presented by conveyors, that discusses conveyor hazards, the regulations and standards relating to conveyor guarding, and the best approaches for adequately and cost-effectively ensuring conveyor safety without adversely affecting productivity.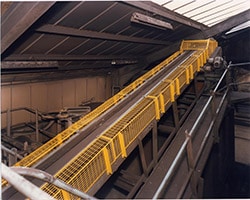 Powered conveyors are highly efficient for transferring discrete items or bulk solids from one location to another, so are prevalent in most industries. Nevertheless, despite their apparent simplicity, conveyors account for a large number of injuries to workers, sometimes with fatal consequences. Many of these conveyor accidents occur during normal operations such as production activities, clearing of blockages, cleaning and maintenance. Typical injuries sustained are severe crush injuries, soft tissue damage, broken bones, severed fingers and severed limbs.
Procter's new free White Paper, Conveyor Guarding – Safeguarding the hazards presented by conveyors, gives examples of recent conveyor-related accidents and subsequent prosecutions by the HSE (Health and Safety Executive). The White Paper then outlines relevant machine safety regulations, standards and published guidance, and explains the need for formalised risk assessments and the complex subject of CE marking.
In the next section of the White Paper there is a discussion of conveyor hazards and safeguards, with information and suggestions for software-based machinery safety calculators that can help engineers design or specify suitable guarding. Readers are also reminded that there may be requirements relating to control systems if the conveyor is operating in conjunction with an adjoining machine, typically as an infeed or outfeed conveyor.
Two further sections in the White Paper discuss the importance of maintaining productivity when installing new conveyor safeguards, and how to guard conveyors as cost-effectively as possible without compromising either productivity or conveyor safety. In the conclusion, there are references to additional measures that may be necessary, such as safe working practices should it be necessary to remove fixed guarding to conduct maintenance operations.
Copies of the new White Paper, Conveyor Guarding – Safeguarding the hazards presented by conveyors, can be downloaded from the Free Machine Safety Guides section of the website.
>> Next: A Guide to Robot Perimeter Guarding
>> See All Procter Machine Guarding News