Congratulation to Ryan Williams-Griffiths in our Procter Machine Safety department, who has recently been named as 'Learner of the Year' in the Warehousing/PMO & BIT category at ACT's Apprenticeship Awards 2017.
The Awards evening (held at Cardiff and Vale College, Cardiff on 2 November 2017) was all about celebrating the successes and achievements of exceptional learners who have shown outstanding commitment, passion and drive to develop their skills and make a real difference to their organisation.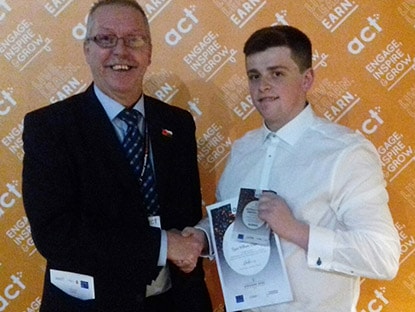 Reg Hughes, Engineering Tutor at ACT Training, noted in Ryan's award entry that "Ryan is a skilful, competent and now a very confident young engineer".
John Procter, Director of Procter Machine Safety said "Ryan is the first apprentice at Procter who has worked on the CNC Pulmax section, the guard assembly section and the welding and fabrication section. In fact, Ryan was so good after training in these specific areas that the line managers were reluctant to let him move on!"
We are very proud of Ryan's success at Procter. Ryan and indeed all the ACT Award winners have gone above and beyond in their apprenticeship qualifications and it was fantastic to have the opportunity to recognise all their hard work.
Rob Williams, HR Manager added, "Ryan's outstanding achievement should be an inspiration to all staff who are currently studying a work-based learning course at Procter Bros with ACT Learning and I hope that all learners will strive to emulate Ryan's success going forward."
Procter Bros is a family-owned manufacturing business, which has been trading since 1740. The best of traditional skills and a strong commitment to customer service are integrated with the latest design, production and management techniques.
We are encouraged that with exceptional Apprentices like Ryan in our team, we can continue to provide the knowledge, expertise and customer service required to exceed our customers' expectations way into the future.
It is timely that this week is Tomorrow's Engineers Week (6-10 November 2017). The Tomorrow's Engineers programme, led by the engineering community, provides a platform for employers to grow the talent pipeline as part of a collective drive.
>> Procter Machine Safety commended for customer service
>> All Procter Machine Safety News