Great news for Procter Machine Safety; we have won a prestigious UK award for our success in delivering customer service excellence.
At the Health & Safety Matters exhibition, the company was awarded the 'Highly Commended' Award for customer service in the British Safety Industry Federation (BSIF) Safety Awards 2017.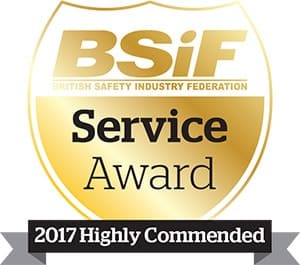 John Procter, Director of Procter Machine Guarding said: I feel so very proud of our team and the level of service we deliver as a business."
The Procter Bros family business has been trading since 1740 and our Guarding business has been in operation for close to 100 years. In that time we have prided ourselves on putting our customers first, yet this is the first time we have put that to the test and entered a service award! Having this external acknowledgement of the quality of our service is a fantastic achievement.
The secret of our success, of course, is no secret at all; it's all down to hard work, our expertise and our determination to helping make our customers' businesses safe.
We would like to highlight a couple of key factors in our success. First, the team at Procter Guarding is simply outstanding. We've taken a great deal of care in nurturing their development over many years. Their hard work, expertise and total professionalism have been crucial to our success.
Secondly, the relationships we have developed with our customers work exceptionally well for both parties. We really do forge very productive partnerships as illustrated by the customers who supported us with glowing testimonials in our bid to win this award.
For example, Jim Caithness from Saica Pack UK said "Procter Guarding has a truly professional and experienced team that we fully trust to work with our people to meet machine guarding requirements. Their guarding expertise and knowledge of the relevant standards help us develop safe, legal and practical solutions to often complex problems. The whole team is a pleasure to work with and an essential support for the safety of our employees."
So to our hard-working team and our loyal and supportive clients, thank you very much. You've made a huge contribution to our achievements and we are thrilled to be recipients of this BSIF Service Award.
To learn how Procter Machine Guarding can help make your machinery safe please email us at info@machinesafety.co.uk
>> Next: Achieve compliance through British Standards
>> More Procter Machine Guarding News