Procter machine guarding have decided to create a brand new brochure for their Satech range of guarding. The new brochure contains all you need to know about the cost-effective perimeter guarding that Procter supply.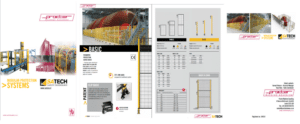 Procter wanted to create this new brochure for the customers, so they have a clear and accurate indication of what they are buying. Satech guarding or as we here at Procter like to call it our ''off the shelf guarding'' is a great money saving solution.
The brochure also contains valuable information such as the HSE, health and safety requirements and much more.
In order to request a free copy of the brochure email kane.rees@procterbedwas.co.uk for a hard copy or PDF file.
For more information on machinery guarding standards please visit our website. For more information on Satech systems visit our Satech page:
Alternatively, call us or email satech@machinesafety.co.uk
>> Next: Standard machine shop guards
>> All Procter Machine Guarding News