Procter Machine Safety is offering two free publications that will help readers to comply with workshop safety regulations. The first is entitled 'Workshop Safety – A Guide to Guarding Small Machine Tools Used in Workshops' and the second is a brochure, 'Standard Machine Shop Guards'. These will be of interest to anyone responsible for the safety of machinery and work equipment in production facilities, maintenance departments, educational establishments, research laboratories or other workplaces where drilling machines, milling machines, lathes and similar machine tools are used.
Under the Provision and Use of Work Equipment Regulations 1998 (PUWER 98), employers are required to take effective measures to prevent access to dangerous parts of machinery or stop their movement before any part of a person enters a danger zone. This is a legal requirement in all workplaces, regardless of the age of the machinery.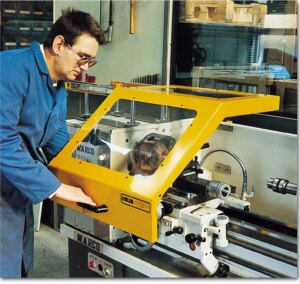 The Workshop Safety Guide (3rd Ed) explains what can be done to comply with the regulations in a cost-effective manner. Written so as to deliver advice and guidance in 'plain English' – but with useful pointers to more detailed information – the guide covers the following topics: costs and benefits of machine guarding; workshop safety regulations and legislation; general requirements for machine guards; requirements for specific machine types; other measures relating to machinery safety; British, European and international standards; official information and guidance; useful resources; and sources of further information.
<Procter's other publication is a brochure for the Nelsa range of standard machine shop guards that can aid compliance with the relevant aspects of PUWER. Originally developed by EJA Ltd, these guards are now being manufactured in the UK under licence by Procter Machine Guarding, so they are available on short deliveries and are backed up by high standards of customer service. The comprehensive 22-page catalogue covers the full range of standard machine shop guards: slide and swing-aside (SSA) milling machine guards, just swing-aside (JSA) milling machine guards, sliding lathe shields, saddle-mount lathe shields, lathe chuck guards, Safetispeed drill guards, magnetic protective screens, and adjustable protective screens for use with off-hand grinding wheels. The guards are available in an extensive choice of sizes to suit the vast majority of machine tools in use throughout the UK.
Procter Machine Guarding is providing full technical support for the Nelsa guards so if customers are unsure of the model of guard required, or if they have any other questions, they can speak to a Procter engineer. If appropriate, an engineer will visit the customer's site to survey the machine tools and recommend the right guards. In the unlikely event of standard Nelsa guards being unsuitable, Procter Machine Guarding can design, manufacture and install custom machine guards to comply with relevant workshop safety regulations, legislation and standards, as well as being designed to maximise productivity.
PDF copies of the Workshop Safety guide and the Nelsa brochure, both of which can aid compliance with workshop safety regulations, are available via the 'Downloads' link at
www.machinesafety.co.uk or email nelsa@machinesafety.co.uk.