Bespoke wire mesh machine guarding
Procter Machine Safety is a leading manufacturer of machine guards, with high-quality, standards-compliant wire mesh guards being a particular area of expertise. We offer a comprehensive service that includes site surveys, risk assessments, stakeholder consultations, design, manufacture and installation. Customers for bespoke mesh guarding include:
machine builders
line builders
manufacturing companies
owners and operators of automated warehouses

Why use wire mesh guards?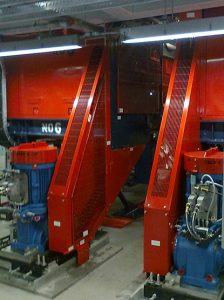 Wire mesh guards are used in many different industries where process visibility is required but access to dangerous parts of machinery must be prevented. Where the guard is protecting a large piece of machinery or one that can become hot, wire mesh guards offer the advantage of unrestricted air movement for cooling and ventilation. In addition, the wire mesh of the correct specification can prevent climbing on large machines and those located outdoors. Construction of wire mesh guards Our mesh guards feature a robust framework manufactured from tube or angle, with wire mesh installed as the infill. Mild steel, stainless steel and aluminium can all be used, depending on the application and industry. Mild steel guards are normally finished by hot-dip galvanising and/or powder coating. Sometimes custom-designed wire mesh guards are used in conjunction with standard modular perimeter guarding. Access points Access to operatives and materials handling equipment is typically provided by hinged or sliding gates with appropriate interlocks. Alternatively, electro-sensitive protective devices are fitted, such as light barriers or laser area scanners. When we install the guards, we can also connect the gate interlocks and other electrical safety devices to the machine's control system if required.
Standards and compliance
Our bespoke wire mesh machine guards are designed, manufactured and installed in compliance with standards such as BS EN ISO 14120, BS EN ISO 13857 and BS EN 349. Where appropriate, the guards also comply with standards specific to the type of machinery being safeguarded. For new machines or pre-owned machines that need to be CE marked before they can be used, wire mesh guards aid compliance with the Machinery Directive and the Supply of Machinery (Safety) Regulations. For existing machinery, wire mesh guards can help employers meet their legal obligations under PUWER (Provision and Use of Work Equipment Regulations).