Drill guards – SafetiSpeed
Nelsa DXS SafetiSpeed drill chuck guards provide all-round protection for the operator, good visibility of the drilling operation and they do not adversely affect operation time. A modular design means SafetiSpeed guards can be installed on almost all drilling machines commonly used in tool rooms, R&D workshops, prototyping, small-batch production and education/training establishments. However, if there is no standard Nelsa guard to fit your drill we can modify a standard product or, alternatively, we can design, manufacture and install a bespoke guard.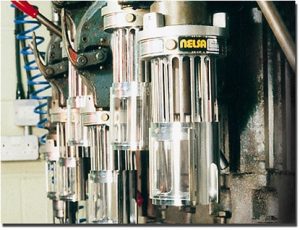 Key features and benefits includes:
PUWER-compliant
CE marked
360-degree protection
Smooth telescopic action
Patented spiral guide prevents jamming by swarf
Sprung ball catch for quick access to the chuck
A choice of mountings and sleeve configurations means the SafetiSpeed range can meet virtually any requirement for chuck guards, pillar drill guards, pedestal drill guards, drill press guards, and single- and multi-spindle drilling machine guards.
Nelsa DXS SafetiSpeed description
Nelsa DXS SafetiSpeed drill chuck guards feature a mounting that fits to the machine's quill and the guard sleeves that clip to the mounting and are held in position by spring-loaded ball catches and retaining screws.
Depending on the risk assessment and drill lengths used, you can select a chuck guard with two or three sleeves. The inner sleeve is a ribbed cage held stationary in the guard holder and the outer sleeve is free to move vertically on the inner cage, guided by a helical groove that prevents jamming.
A transparent polycarbonate window in the outer sleeve provides protection and visibility, and is secured by two guide slots and a retaining screw. If the window starts to become opaque, it can be quickly replaced.
How it works
During the drilling operation the outer sleeve begins by resting on the workpiece or jig then, as the drill advances, the inner cage moves down and automatically protects the window from the swarf cut by the edges of the inner cage.
Choice of mountings
The standard Type A mounting suits a quill diameter of 70mm, and 13 reducing bushes are available so the guard can be used on quills down to 38mm diameter.
Larger machines are catered for by the Three Lug Guard Mounting that accommodates quill diameters from 70mm to 96mm. For quills larger than this we have two flanged-top casting options. This style of mounting fits irregularly-shaped non-rotating quills such as 'pear shaped' quills having projecting bosses carrying a depth-adjusting screw.
Standard and regulations
Nelsa DXS SafetiSpeed drill guards comply with the requirements of PUWER and PD 5304. They are CE marked to the Machinery Directive 2006/42/EC.